EUROPEAN EVENT OF THE YEAR 2020 (+1)
10 August 2020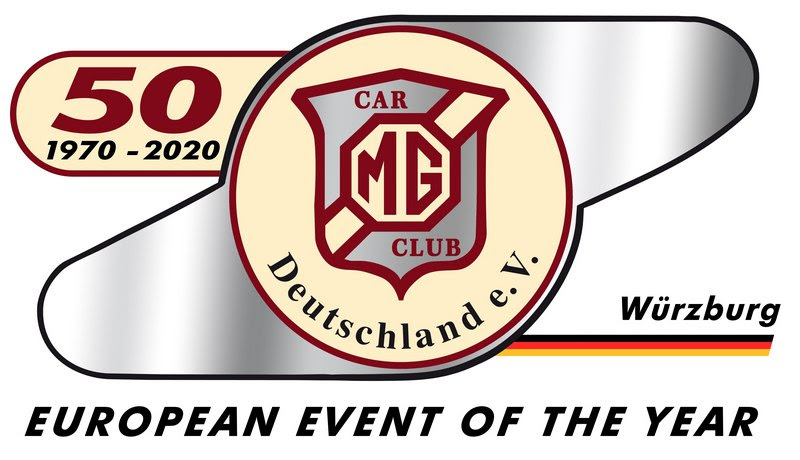 EUROPEAN EVENT OF THE YEAR 2020
+ + + English Version below + + +
Beste MG Car Club Belgium leden en partners,
Beste deelnemers van het European Event 2020 (+1),
Eigenlijk zou onze ontmoeting inmiddels voorbij zijn en zou hebben plaatsgevonden bij midzomertemperaturen boven de 30 ° C. Maar we hebben nu weer een jaar van anticipatie en we hopen dat de onzekerheid over het coronavirus dan is weggeëbd. Uiteraard blijven we de situatie in alle deelnemende landen volgen voor een zorgeloze deelname in 2021. We houden je op de hoogte.
Het uitstel naar 2021 is nu voltooid. Dit heeft veel werk gekost met het grote succes dat alle deelnemers nu naast hun startplaats ook een hotel zouden moeten hebben! Overigens trok slechts 10% van de deelnemers zich terug voor volgend jaar, dit viel binnen de marge van onze schattingen. Inmiddels kunnen we beginnen met het invullen van de openstaande vacatures - enkele zijn zelfs nog vrij! Dus als je vrienden hebt die geïnteresseerd zijn, stuur ze dan een e-mail naar eeoty2020@mgcc.de.
Iedereen heeft nu een aantal weken de tijd om te bedenken of hij er volgend jaar wel bij zou willen zijn. We begrijpen dat sommige deelnemers in de komende weken en maanden misschien niet zeker weten of ze moeten deelnemen. De effecten zijn immers heel verschillend in de afzonderlijke landen.
We willen deze moeilijke tijd samen het hoofd bieden - en in feite kan geen evenement van deze omvang worden gepland met peu-a-peu-annuleringen. U zult dus zeker begrijpen dat we nu de mogelijkheid van annulering annuleren om de planning van het "Europese evenement van het jaar" te garanderen. Dezelfde voorwaarden zijn van toepassing als bij de eerste inschrijving.
Als het echt erg wordt en het evenement kan ook niet doorgaan in 2021, of reizen in andere landen is niet toegestaan, dan vergoeden we je het inschrijfgeld natuurlijk. Tot dan: jij maakt er deel van uit!
We willen optistisch naar de toekomst kijken en zien u graag volgend jaar tegemoet.
Blijf gezond!
Uw organisatieteam
Website: mgcc-eeoty2020.de
Facebook-groep voor het evenement: https://www.facebook.com/groups/EEotY2020
Chers membres et partenaires de MG Car Club Belgium,
Chers participants de l'European Event 2020 (+1),
En fait, notre réunion serait maintenant terminée et se serait déroulée à des températures du milieu de l'été supérieures à 30 ° C. Mais nous avons maintenant une autre année d'anticipation et nous espérons que l'incertitude concernant le virus corona se sera dissipée d'ici là. Bien sûr, nous continuerons de suivre la situation dans tous les pays participants pour une participation sans souci en 2021. Nous vous tiendrons au courant.
Le report à 2021 est désormais terminé. Cela a coûté beaucoup de travail avec le grand succès que tous les participants devraient désormais avoir un hôtel en plus de leur lieu de départ! Soit dit en passant, seulement 10% des participants se sont retirés pour l'année prochaine, ce qui se situait dans la fourchette de nos estimations. En attendant, nous avons pu commencer à pourvoir les postes vacants - certains sont même encore libres! Donc, si vous avez des amis intéressés, envoyez-leur un e-mail à eeoty2020@mgcc.de.
Chacun a maintenant eu plusieurs semaines pour se demander s'il aimerait être là l'année prochaine. Nous comprenons que dans les semaines et les mois à venir, certains participants pourraient ne pas savoir s'ils devraient participer. Après tout, les effets sont très différents selon les pays.

Nous voulons maîtriser ensemble cette période difficile - et en fait, aucun événement de cette ampleur ne peut être planifié avec des annulations peu-à-peu. Vous comprendrez donc sûrement que nous annulons désormais la possibilité d'annulation afin d'assurer la sécurité de la planification de l '«événement européen de l'année». Les mêmes conditions s'appliquent que pour la première inscription.

Si les choses vont vraiment mal et que l'événement ne peut pas non plus avoir lieu en 2021, ou que les restrictions dans d'autres pays ne permettent pas de voyager, nous vous rembourserons bien sûr les frais d'inscription. Jusque-là: vous en faites partie!
Nous voulons regarder vers l'avenir d'un point de vue optique et nous nous réjouissons de vous voir l'année prochaine.
Reste en bonne santé!
Votre équipe d'organisation
Site Web: mgcc-eeoty2020.de
Groupe Facebook pour l'événement: https://www.facebook.com/groups/EEotY2020
Liebe Teilnehmer des European Event 2020(+1),

eigentlich wäre jetzt unser Treffen schon vorüber und hätte bei hochsommerlichen Temperaturen über 30° C stattgefunden. Uns bleibt nun aber ein weiteres Jahr Vorfreude und wir hoffen, dass sich die Ungewissheit bezüglich des Corona-Virus bis dahin gelegt hat. Natürlich beobachten wir weiterhin die Situation in allen teilnehmenden Staaten zu einer unbeschwerten Teilnahme 2021. Wir werden euch dazu auf dem Laufenden halten.
Die Verschiebung nach 2021 ist nun abgeschlossen. Dies hat einiges an Arbeit gekostet mit dem schönen Erfolg, dass alle Teilnehmer jetzt neben ihrem Startplatz auch ein Hotel haben sollten! Übrigens haben nur 10% der Teilnehmer für nächstes Jahr widerrufen, dies lag im Bereich unserer Abschätzungen. Wir konnten in der Zwischenzeit beginnen, die vakant gewordenen Plätze aufzufüllen - einige wenige
sind sogar noch frei! Wenn ihr also Freunde habt, die Interesse haben, mögen diese bitte eine email an eeoty2020@mgcc.de senden.
Jeder hat nun mehrere Wochen Zeit gehabt, sich zu überlegen, ob er im nächsten Jahr dabei sein möchte. Wir verstehen, dass einige Teilnehmer auch in den kommenden Wochen und Monaten vielleicht verunsichert werden, ob sie teilnehmen sollten. Schließlich sind die Auswirkungen in den einzelnen Ländern sehr unterschiedlich.
Wir wollen diese schwierige Zeit gemeinsam meistern – und tatsächlich lässt sich mit peu-a-peu Stornierungen keine Veranstaltung in dieser Größenordnung planen. Ihr versteht daher sicherlich, dass wir nun hiermit zur Planungssicherheit des "European Event of the Year" die Möglichkeit der Stornierung aufheben. Es gelten also die Bedingungen wie bei der Erstanmeldung.
Sollte es ganz schlimm kommen, und die Veranstaltung kann auch 2021 nicht stattfinden, oder Restriktionen in den anderen Ländern lassen eine Anreise nicht zu, werden wir euch das Startgeld natürlich erstatten. Bis dahin gilt: Ihr seid dabei!
Wir wollen aber optistisch in die Zukunft blicken und freuen uns, euch im nächsten Jahr zu begrüßen.
Bis dahin bleibt gesund!
Euer Orgateam
Website: mgcc-eeoty2020.de
Facebook-Gruppe zum Event: https://www.facebook.com/groups/EEotY2020
+++ English +++ +++ +++ English +++ +++ +++ +++ English +++

Dear participants of the European Event 2020(+1),
actually our meeting would have been over by now and would have taken place in midsummer temperatures above 30 ° C. But we now have another year of anticipation and we hope that the uncertainty regarding the corona virus will have subsided by then. Of course, we will continue to monitor the situation in all participating countries for a carefree participation in 2021. We will keep you up to date.
The postponement to 2021 is now complete. This cost a lot of work with the great success that all participants should now have a hotel in addition to their starting place! By the way, only 10% of the participants withdrew for next year, this was within the range of our estimates. In the meantime, we have been able to start filling the vacant positions - a few are even still free! So if you have friends who are interested, please send them an email to eeoty2020@mgcc.de.
Everyone has now had several weeks to consider whether he would like to be there next year. We understand that in the coming weeks and months some participants may be unsure whether they should participate. After all, the effects are very different in the individual countries.

We want to master this difficult time together - and in fact, no event of this magnitude can be planned with peu-a-peu cancellations. You will therefore surely understand that we are now canceling the possibility of cancellation in order to ensure planning security for the "European Event of the Year". The same conditions apply as for the first registration.

If things get really bad and the event cannot take place in 2021 either, or restrictions in other countries do not allow travel, we will of course reimburse you for the entry fee. Until then: you are part of it!
We want to look optistically into the future and look forward to seeing you next year.
Stay healthy!
Your organisation team
Website: mgcc-eeoty2020.de
Facebook-group for the event: https://www.facebook.com/groups/EEotY2020